Here's the easiest way we know to add accent colors to room décor: colorize the hardware you buy for each space.
Decorative hardware from Allied Brass is more than just a shelf, toilet tissue holder, or towel bar. All our products are designed by décor experts and arranged in more than 40 distinct collections. 
Huge Palette of Standard Finishes
Our standard offer palette is the largest we know of in the decorative hardware space. We've included metallics, matte finishes, and colors that can be used to complement or contrast a room's primary décor.
The circled color above is Lavender, which we see in orders for smaller hardware pieces like wall-mounted toilet paper holders and candle holders like this one from our Dottingham Collection: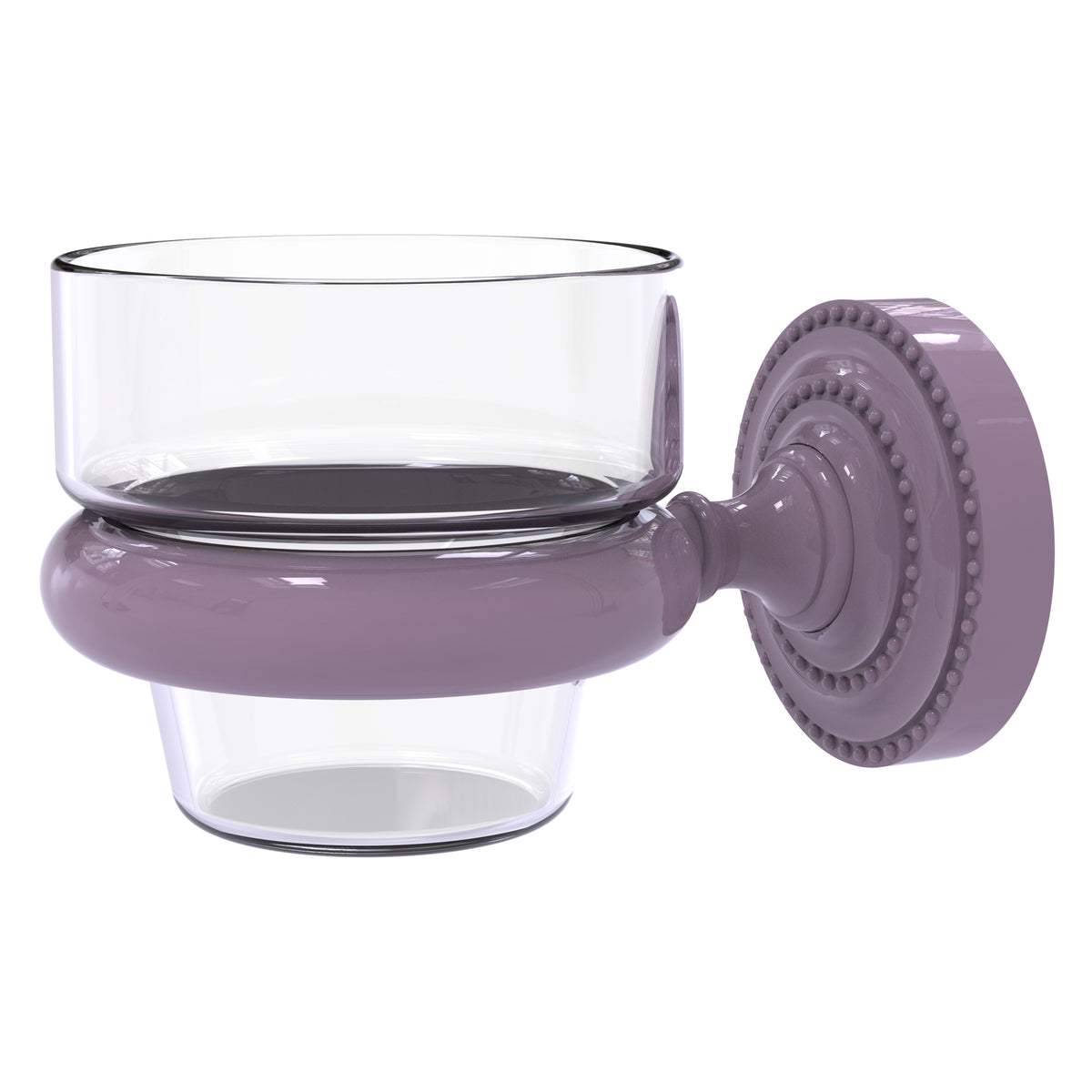 The glass container - included with the candle holder itself - holds a votive-size candle.
Click on any photo to visit the product page where you can preview more finishes and zoom in on details.
Color Your Hardware with Popular Accents
We know we offer more standard finishes than our competitors. You might find a dozen (at best) to our 28.
Accent colors are used to contrast or complement primary colors and avoid monotones. The primary colors used in most rooms are on the softer side of the spectrum and include blues, grays, beiges, creams, and white. These colors help pull rooms together when they're filled with furniture.
These colors also provide opportunity for accent colors. Rugs, pillows, and window treatments all contrast or complement the dominant color. We've added decorative hardware to this list.
Bathrooms Rely on Decorative Hardware for Style and Substance
Every bathroom needs hardware. The most attractive bathrooms rely on decorative hardware to complete the room's purpose: toilet tissue holders, towel holders, shower hardware, and so on.
We're proud to offer more than 40 collections that span contemporary, traditional, Steampunk, Cubist, and other styles, plus a generous color palette for finishes.
Do you like an Industrial look? Consider a TP holder from our Pipeline Collection. This one features an Antique Bronze finish with chocolate undertones: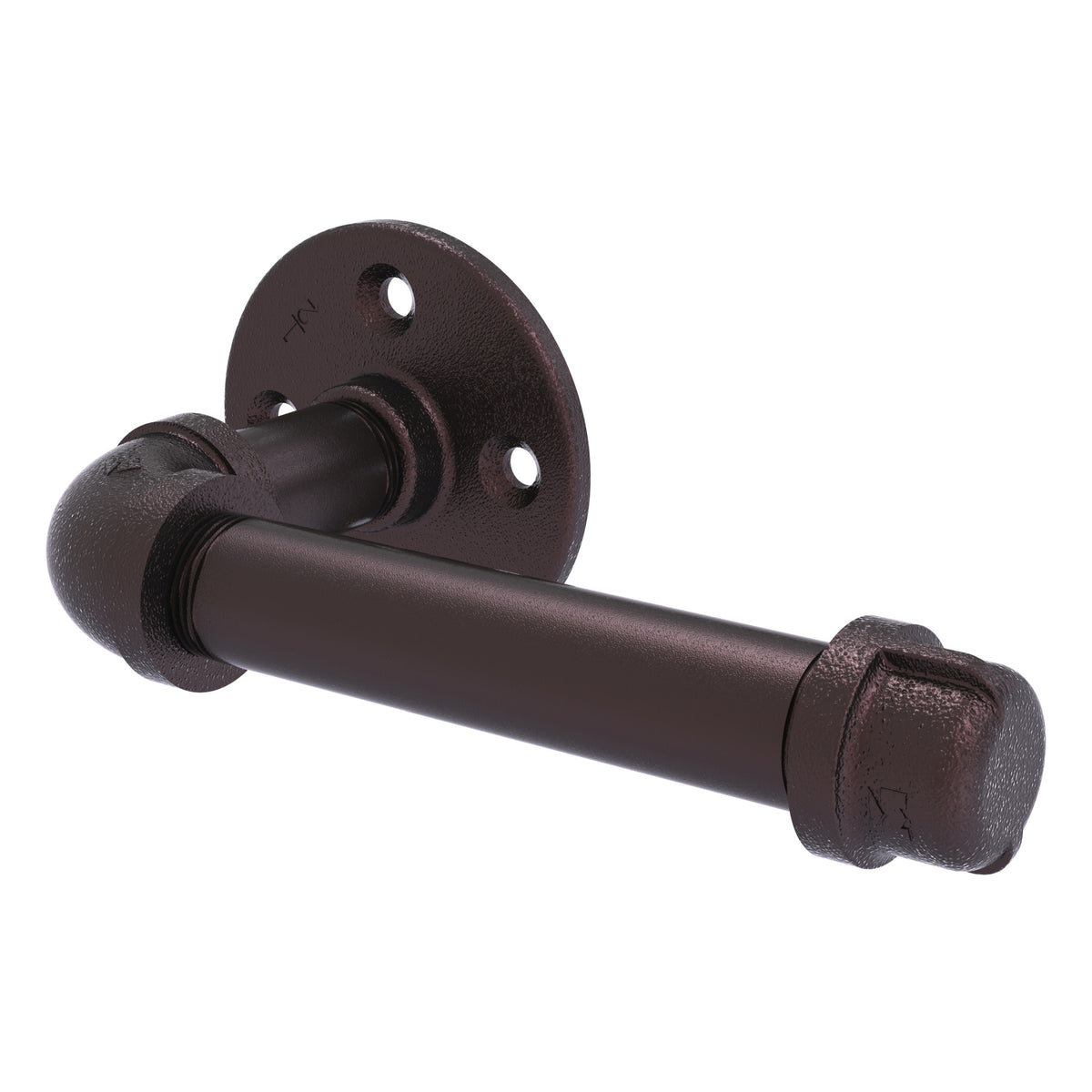 Pipeline pieces are made entirely from actual brass pipe parts. We chose 19 finishes for the collection (somewhat fewer than our other collections) that work best with pipe surfaces. 
Want to make an ironic statement? Click on the photo to go to the product page where you can preview other colors including a bright Pink finish or a Flat Blue one.
You'll also need a soap dish or soap dispenser. This soap dish with a gentle Matte Gray finish delivers a soothing complementary accent to popular bathroom colors like blues and whites. The acrylic detail adds an informal touch as well.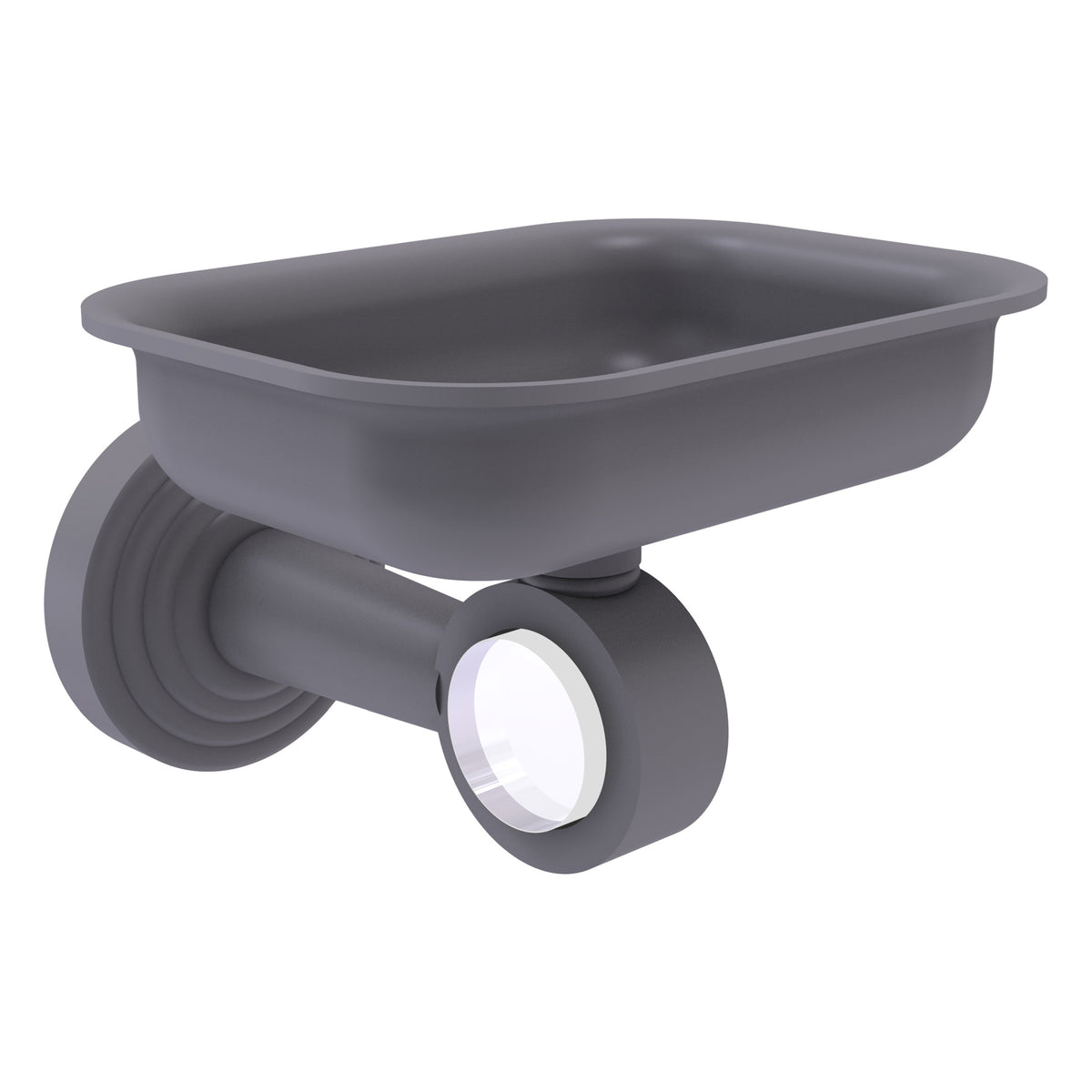 From the Pacific Beach Collection
If you're looking for a bolder contrast, click on the image to preview a Mediterranean Blue or Teal finish. For a bold metallic contrast, check out the Antique Copper and Polished Brass finishes.
Bathroom Sets with Tons of Color Finishes!
We've learned from conversations with customers and decorators that people often really dislike the bathroom hardware that comes with a new home. We understand this frustration and offer two solutions:
Elegant Beginnings offers a full selection of bathroom hardware from our most popular collections and includes a choice of towel bars. You'll also find additional decorative hardware like shower door hardware, a stylish glass shelf, a toilet paper holder with a shelf, and this lovely towel ring: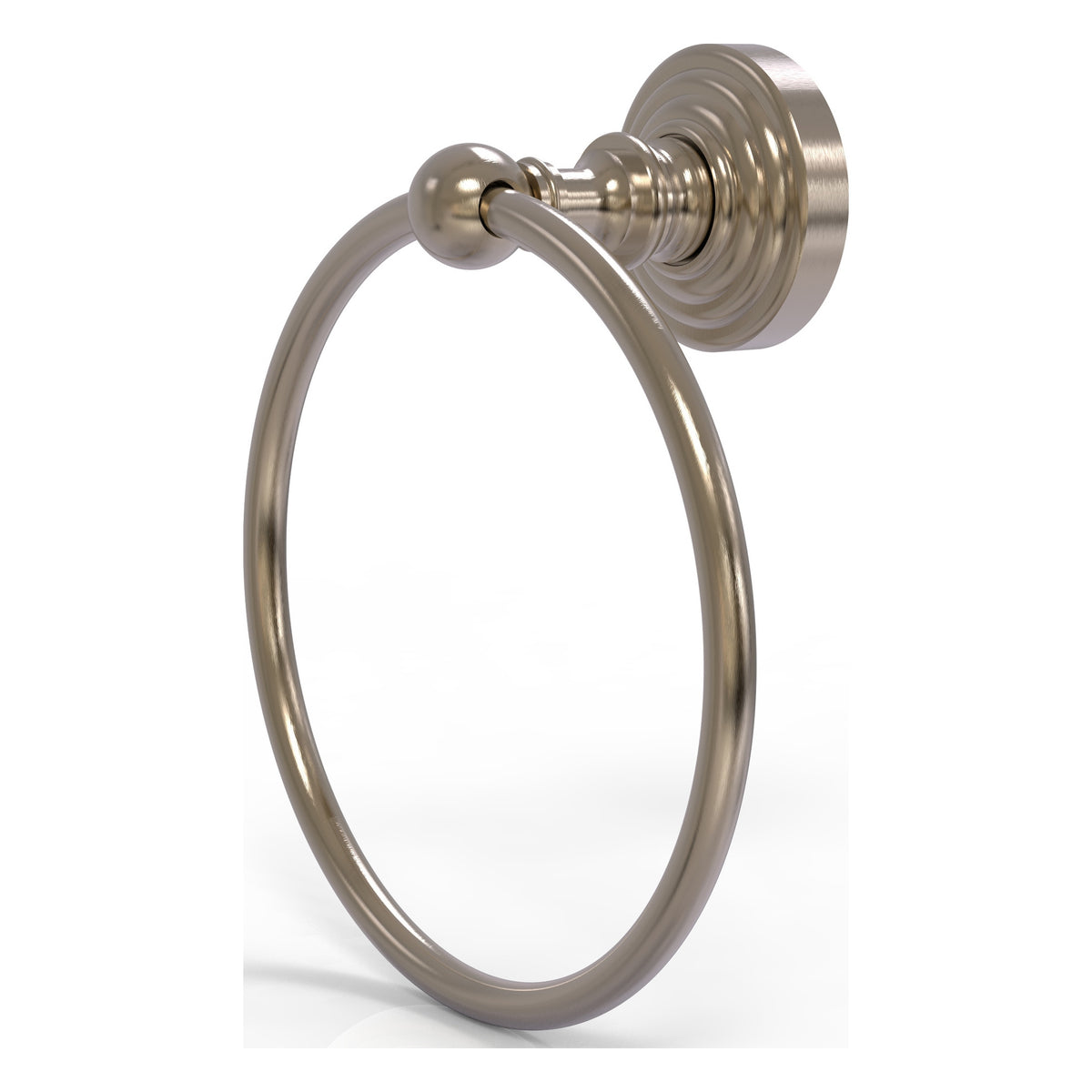 Elegant Beginnings Towel Ring. Finish: Antique Pewter.
Essential Bathroom sets are four smaller collections that feature essential bathroom hardware.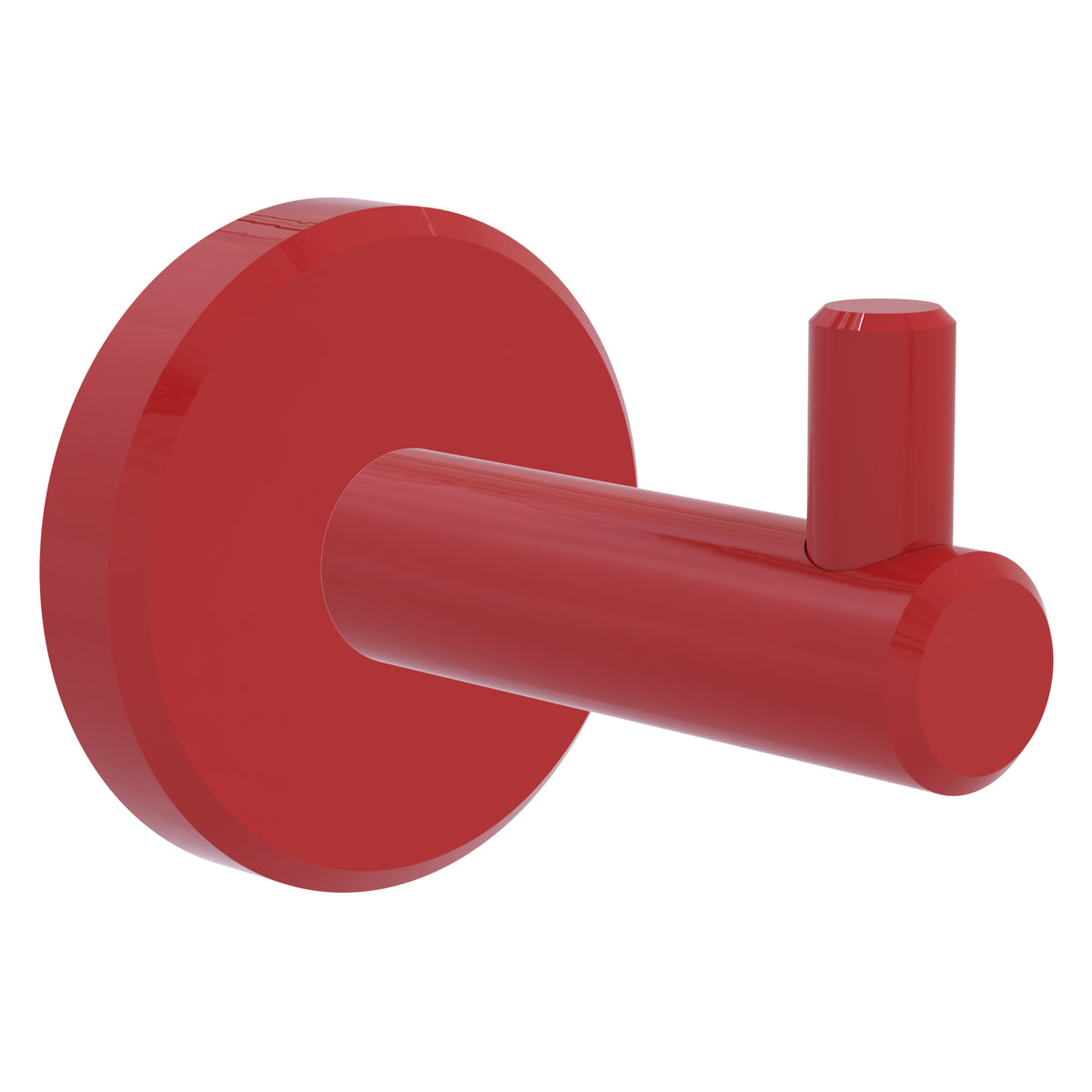 Robe Hook, Malibu Collection. Finish: Fire Engine Red
Each collection offers a Euro-style TP holder, robe hook, choice of towel holders, and a hand towel holder. They're priced quite competitively but retain the same strong brass qualities of our other collections.