Bathrooms can get cluttered pretty easily. Our prescription is to put up an attractive shelf. The question for many customers is whether to choose a glass shelf or a wood one for their bathroom.
There's no question that glass shelves are seen in more bathrooms than wood shelves. However, don't rule out wood shelves if that's the style you really want. Here are some facts to consider when you're shopping for decorative hardware shelves for your bathroom.
Not All Wood Shelves Are Created Equally!
We understand the hesitation to put up a wood shelf in a damp environment like a bathroom. After all, the wood will be exposed to a lot of humidity from showers. Then there are hot baths, in-shower saunas, and steam created by hot shaves and other morning facial routines. 
But humidity affects different kinds of woods in diverse ways. Hardwood is very resistant to moisture, which is why we chose Ipe hardwood for our brass and wood shelves. As The Wood Database notes, Ipe is very durable against weather and rot.
Certainly, wood that survives 25 years as a heavily traveled boardwalk exposed to salt water, summer heat, and winter storms can handle the "climate" in your bathroom!
Here's a very attractive example of a hardwood shelf that would look gorgeous in any bathroom. (Click on any of the images we show to visit the product page.)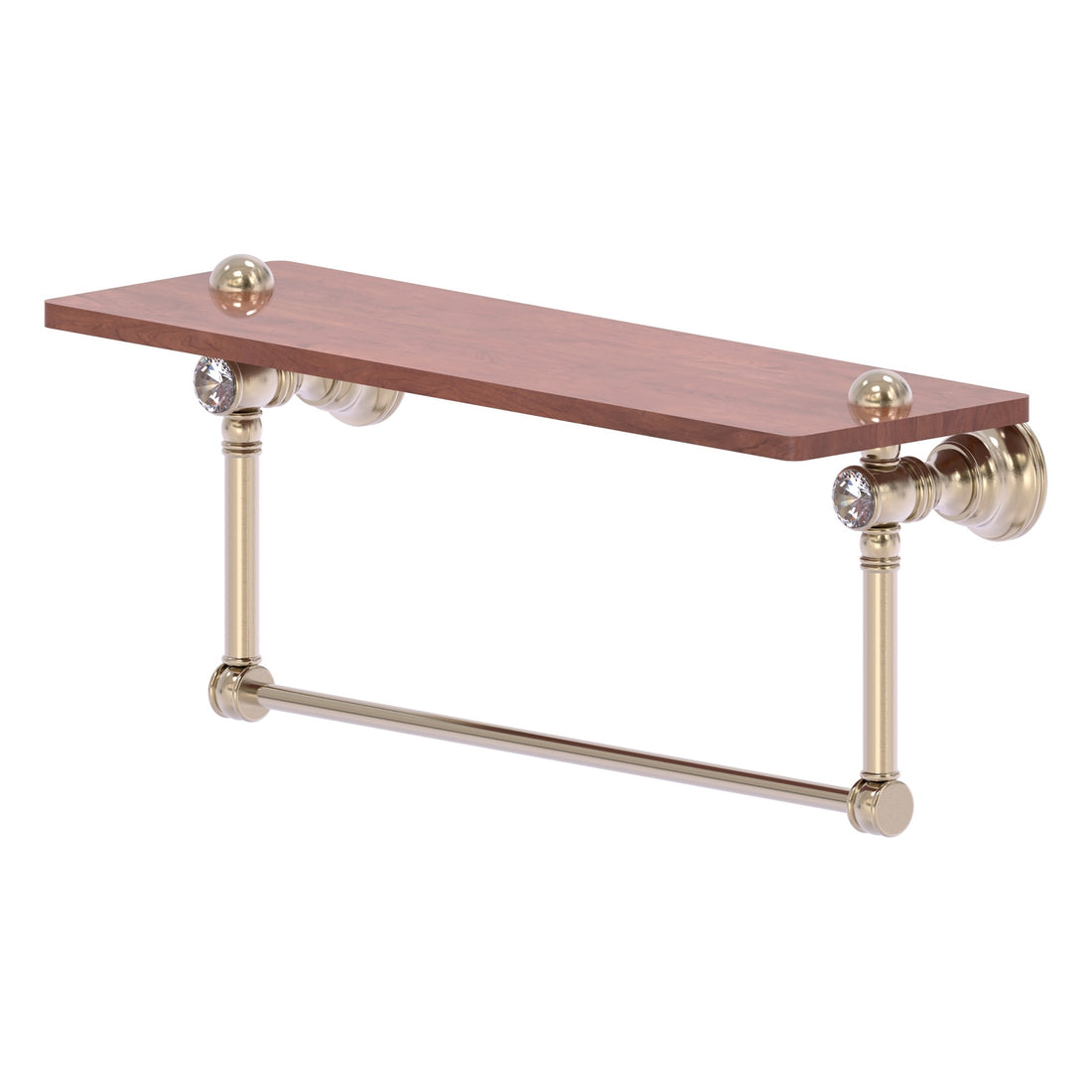 Carolina Crystal Wood Shelf with Towel Bar. Finish: Antique Pewter
Note the crystal glass inlay that's a signature feature of the Carolina Crystal Collection. A sister collection, Carolina, offers similar shelves without the inlay. This one includes an optional gallery shelf as well as a towel bar.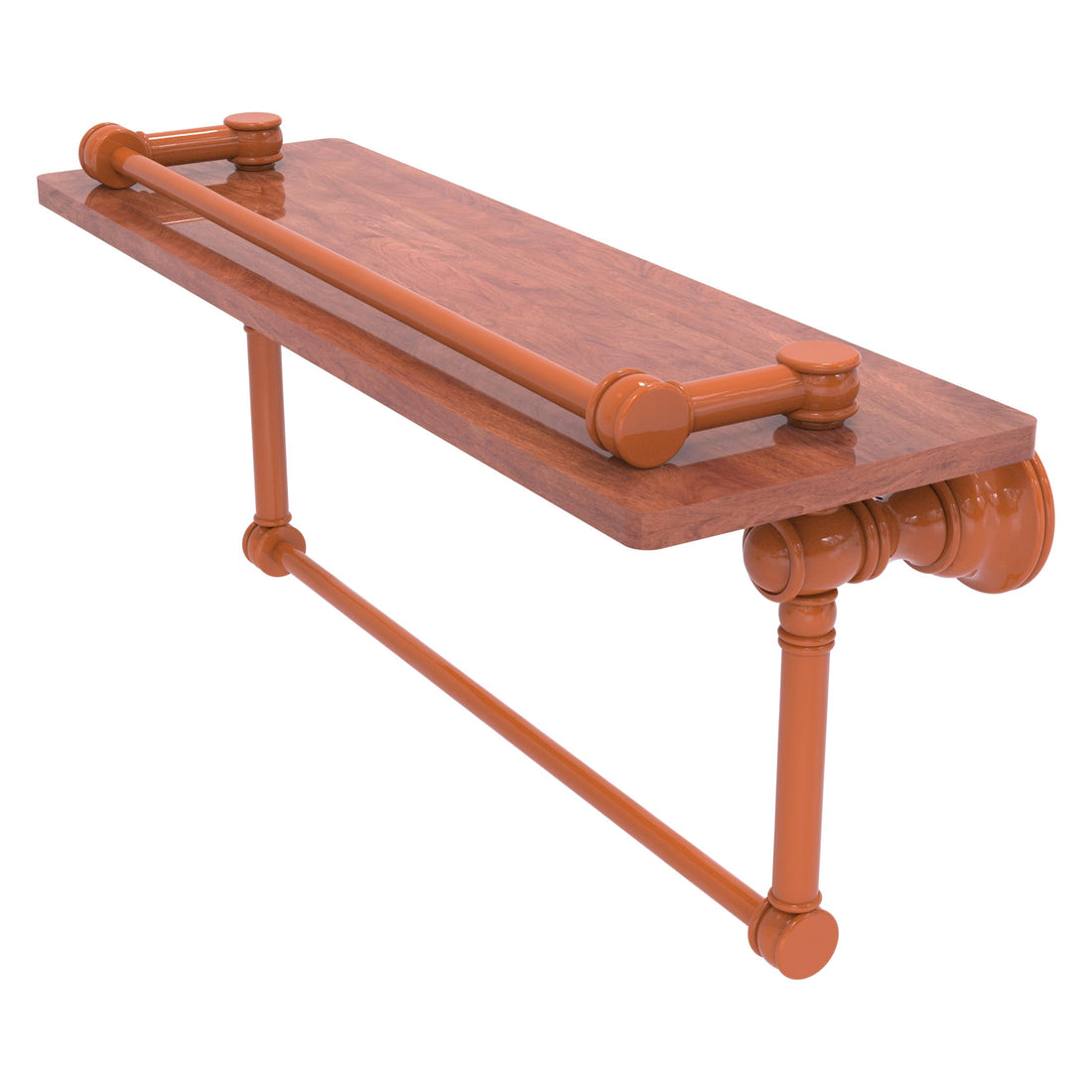 Finish: Autumn Sparkle
Glass Shelves Let In Light
Adding a glass shelf maximizes the lighting in that space. This is particularly useful in a bathroom, where light is so important.
If you select a double or triple shelf, you add transparency as well to the different layers. This double shelf from our Prestige Regal Collection shows this beautifully, aided by parallel lines and a Satin Nickel finish.
Floating Glass Shelves Designed With Elegance and Strength
Be sure to take a look at our floating glass shelves, which bring elegance and perhaps surprising strength to bathroom décor.
These shelves were designed with arms that reach down (rather than straight out) to hold up a shelf, giving the impression that the shelf floats up to it. This one, from our Dottingham Collection, is shown with a Polished Brass finish. 
Note the two small supporting "buttons" holding the shelf up to provide extra support. The gallery rail is optional; here is the
same shelf
without one. It's beautifully minimalist even with the details in the arms.
We use shatterproof 3/8" (10 mm) thick tempered glass for all our glass shelves. We bevel the edges as well to complement our designs.  This thick glass doesn't just look strong - it's five times more impact-resistant than standard glass.
All Our Shelves Are Made with Tough Brass Hardware
Whether you choose glass or wood shelves, know that they are held together and held in place with brass hardware that's equally resistant to moisture. With proper care - we're talking about wiping it down during routine cleaning - it won't corrode at all. Brass also won't rust since it doesn't contain iron. 
Our finishes are powder-coated to resist peeling, tearing, or fading over a lifetime of normal use. We offer up to 28 finishes for our products, and we can customize for special colors as well for a low, one-time fee.