We introduced our line of decorative grab bars years ago to provide an alternative to the existing safety bars that dominated the market.
Those original safety bars met their purpose. We created our elegant grab bars to provide the same safety measures and supports while integrating with the beautiful bathrooms around them.
Traditional style reeded brass grab bar. Finish: Antique Brass.
Click on any image to visit the product page, where you can preview different finishes - we offer more standard finishes than anyone else in the decorative hardware industry.
Our Decorative Grab Bars Blend Style and Safety for Bathroom Design
Decorative hardware balances durability with style. When we design a piece of hardware, we ensure that it's as strong as the utilitarian versions - if not stronger since our products are made with brass - and offered in a variety of styles and finishes that work with the surrounding décor.
Cube Design Brass Grab Bar. Finish: Satin Nickel
Grab bars require extra effort since they must be compliant with the Americans with Disabilities Act (ADA), which require them to support 250 pounds. Our brass safety grab bars meet these standards.
Five of our brass hardware collections feature horizontal safety grab bars in different lengths and with smooth or reeded grips. Here are two from our Dottingham Collection: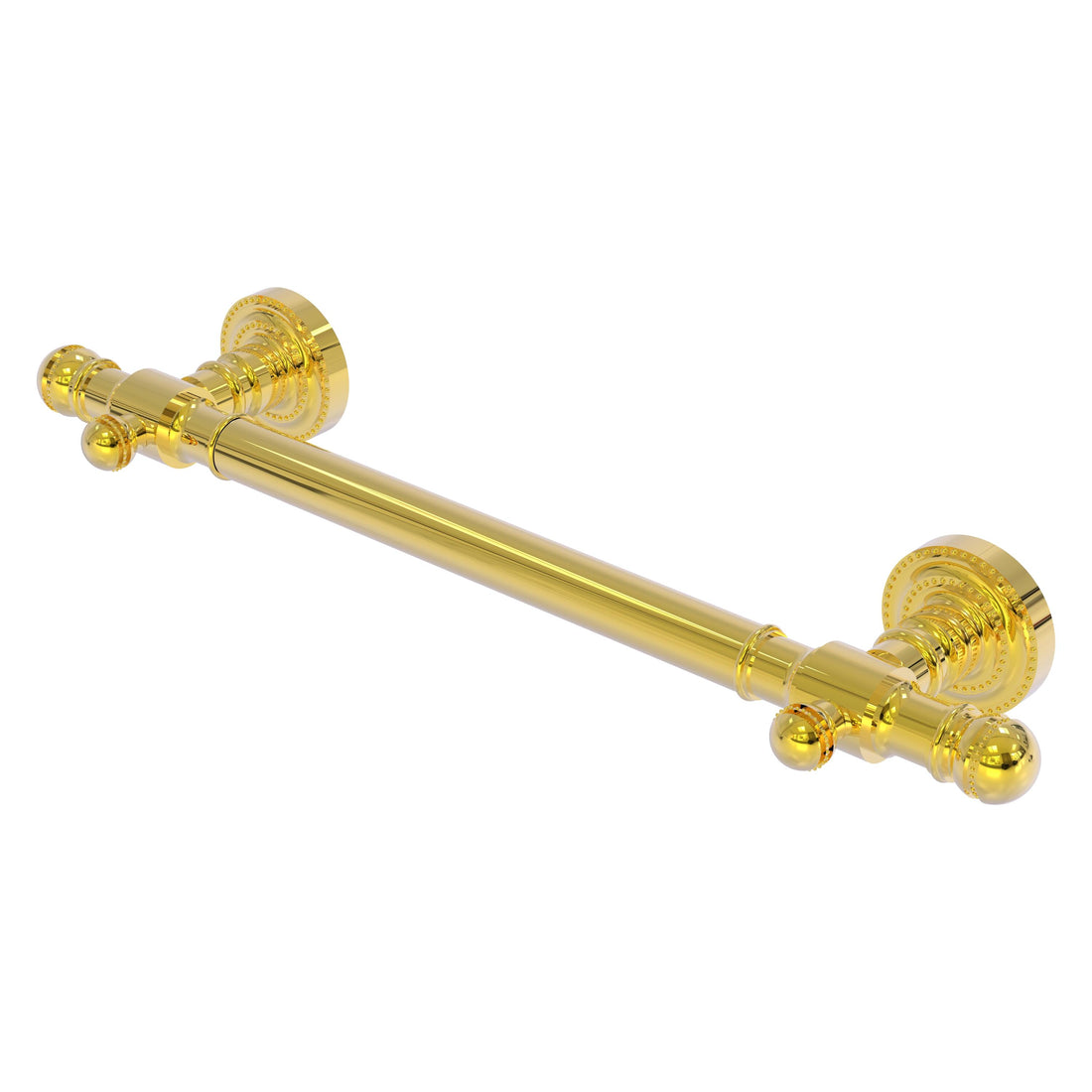 Finish: Polished Brass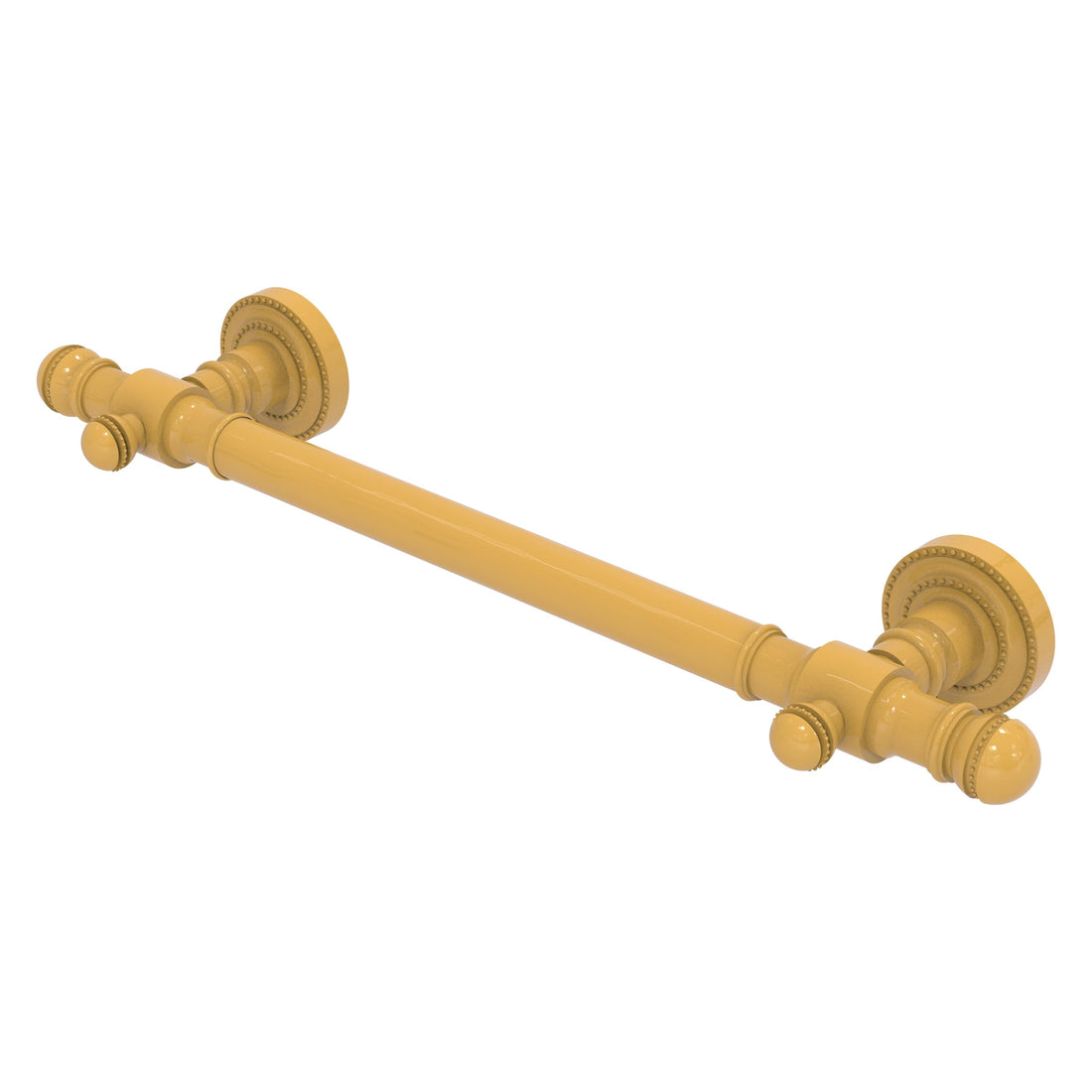 Finish: Spanish Gold
Most of our grab bars come in four sizes: 16", 24", 32", and 36" and can be mounted horizontally, vertically, or at an angle.
Dottingham is one of our largest collections and offers a full complement of designer hardware for full and partial bathrooms. Its feature designs are rounded finial ends with dotted rings that also appear on the mounting plates. Choose from 25 standard finishes that include metallic, matte, and color-splashed options like teal.
Safety Meets Steampunk Style!
Our Pipeline Collection has been our Number One seller since it was introduced. Its Steampunk style is particularly useful for grab bars since it echoes the original utilitarian grab bar designs.
Finish: Brushed Bronze
Pipeline products are created with actual pipe fittings, adding chic touches that are as strong as they look. Products from this hardware collection are available in 19 standard finishes, including this one with an eye-catching Fire Engine Red finish: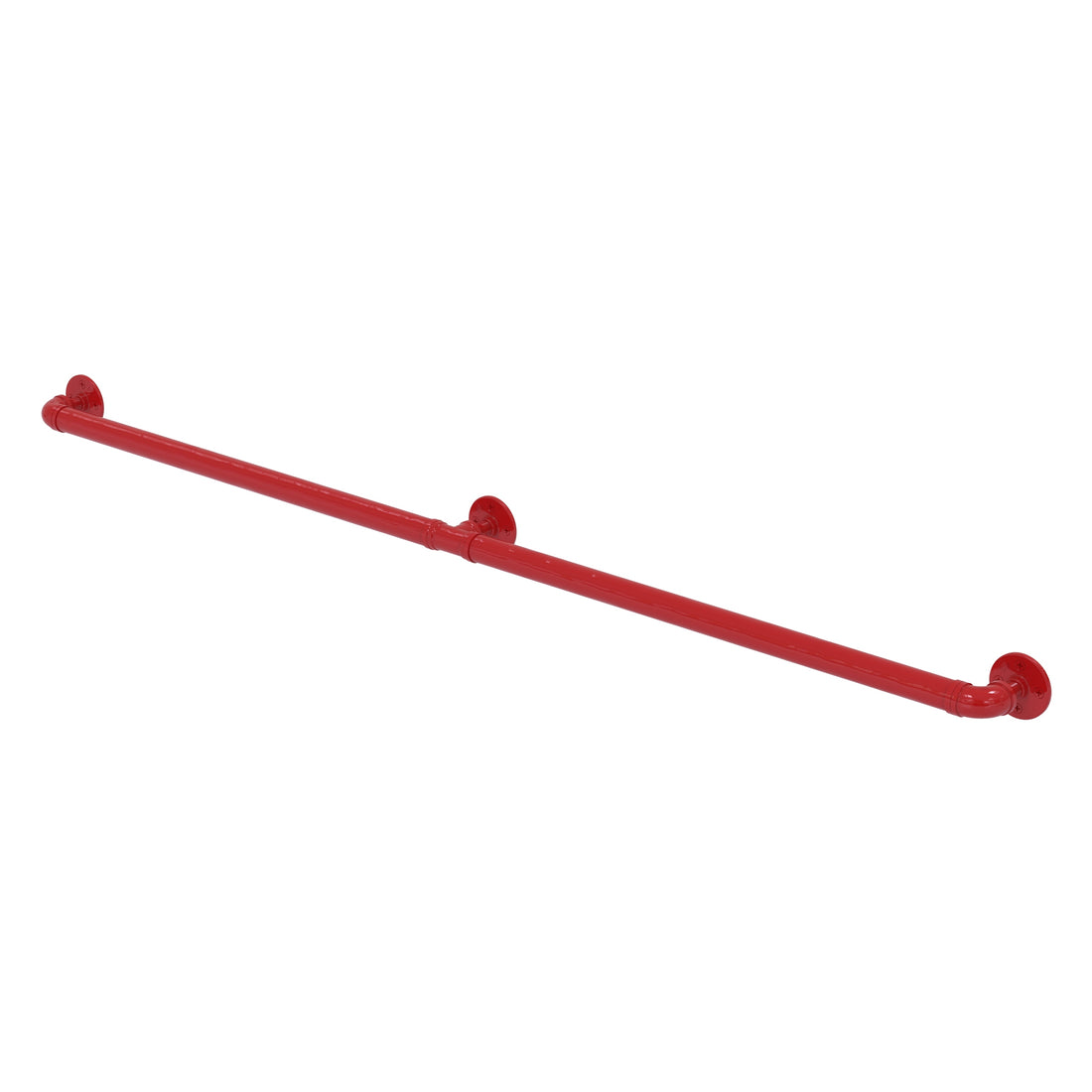 This three-post grab bar measures 42" across.
New! 90 Degrees of Grab Bars for Bathroom Safety
Earlier this year, we introduced a line of 90-degree grab bars that provide additional support in bathroom design. They can be found in the Pipeline Collection and in a unique Cube design we specifically created for decorative grab bars.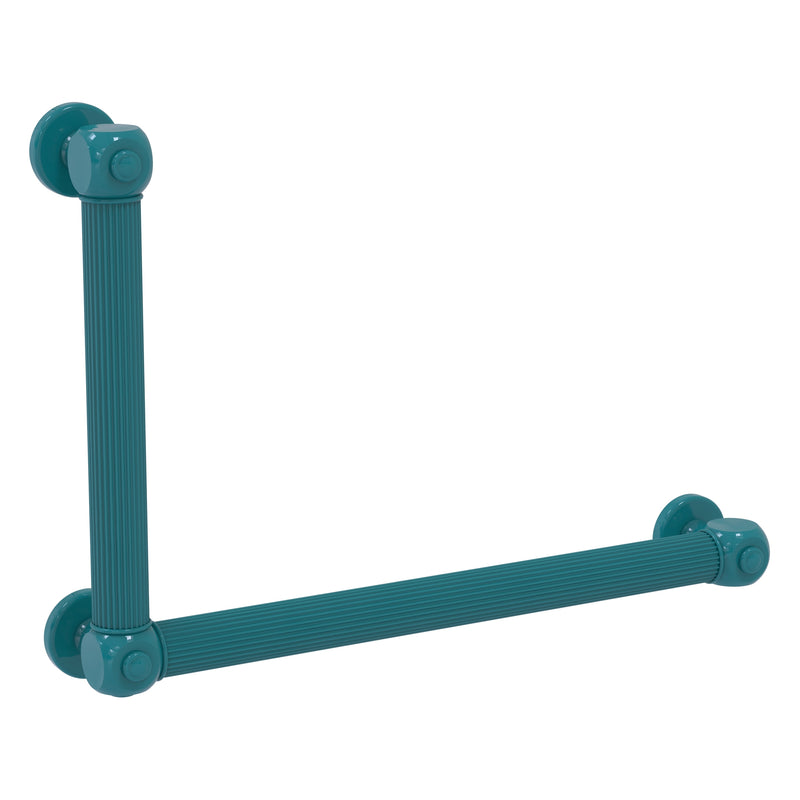 Finish: Teal
We offer right- and left-handed grab bars with vertical bars that are 6" shorter than the bottom horizontal ones. These grab bars come in three sizes: 12"x18", 18"x24", and 24"x30".
All our 90-degree grab bars come with reeded or smooth surfaces. 
A Grab Bag of Grab Bar Options
We offer more standard finishes for our decorative hardware than anyone else in the industry. 
We have a few thoughts on using finishes in different spaces.
Bold, contrasting colors are easier to see. We suggest choosing a bright finish for grab bars installed in tubs or showers, even when they are well-lit. Water can get in the eyes, making it difficult to see clearly, especially for people with lower vision.
Consider this cube-style safety bar with a Golden Yellow finish.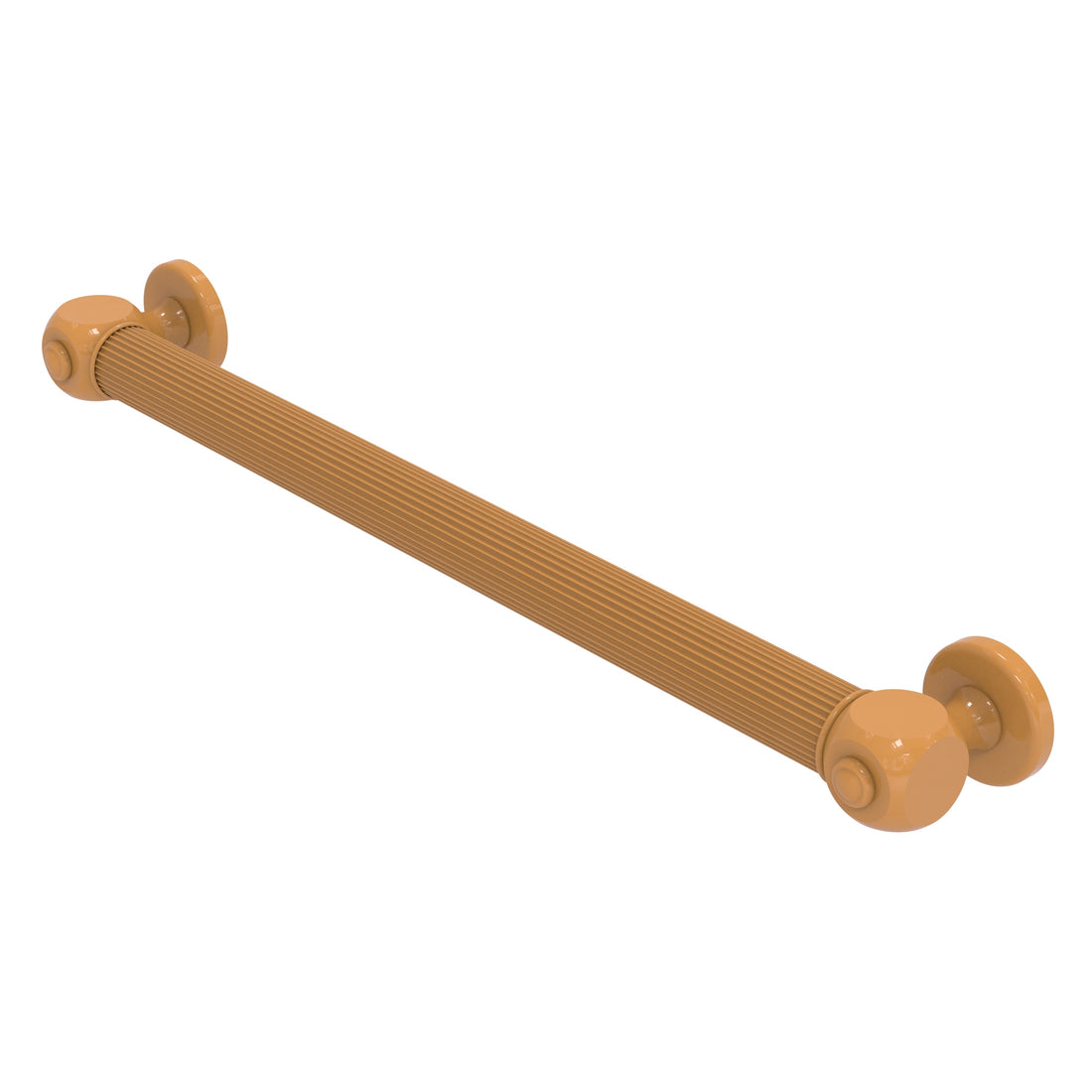 Grab bars outside the tub or shower can be finished in hues that complement or contrast the rest of the room décor. 

Smooth or reeded surface grips depend on personal preferences. Some experts say reeded grips add extra safety in wet areas like a tub or shower. However, a smooth grip may be perfectly fine near a commode and have the added benefit of not scraping delicate skin.
Also consider who will use the grab bars. While the grab bar industry developed to assist senior citizens and people with visual or mobility-related disabilities, it's obvious to see the appeal for young children who need help standing inside or getting in and out of a tub or shower.
Plus, anyone recovering from a back or leg injury will appreciate the presence of a grab bar.